So I lay here in reflection whilst nursing ego and my aching body. This is the first race in my life that I failed to finish. It was an interesting brutal race and experience, so let me tell you about it…………….
To the reader of this,
So my nerves and anxiousness were very high for this little adventure! I mention so as I had Pneumonia for 6 weeks prior to this and only 10 days recovery. An easy flat 8 mile run 6 days prior arrival had destroyed me. With the previous year's injuries taking me out of the game for the latter 2/3rds of the year I had only managed 7 weeks of training since May 2016. Luckily I had managed many killer sessions training on a Stairmaster Gauntlet stepping machine and this proved more than beneficial, shown later on in this account.
I arrived into Gran Canaria with a day in hand giving me plenty of time to organise myself and to start mentally preparing, here is an insight to that….
The race starts in Agaete in the north of the island and sees you running over the endless rugged mountains to Maspalomas in the south. To get to this place I decided to get a bus there early, to explore and relax.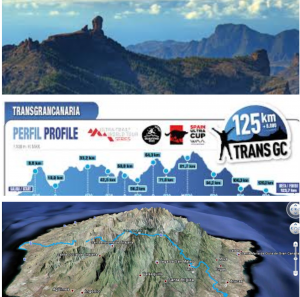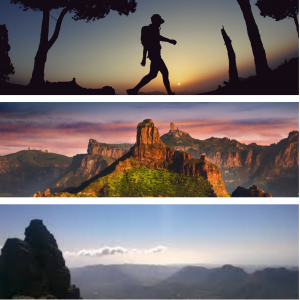 Agaete is a small white gem nestled in the centre of the lush jade embrace of the mountains on one side and the sapphire glistening waters to the other. It is an old 15th century port that was smiling at me when I arrived. (Did it know something I didn't!?)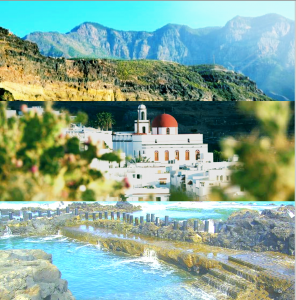 I explored for an age and marvelled at the looming mountains and ambled along the sea front to see caches of ice covered pink fresh fish gleaming in the sun, all brought in by the weathered and cheery local fishermen who stood proud by their day's haul. My mouth watered and I was convinced to book a table at one of the restaurants on the small and quaint promenade.
I wanted to have a final preloading meal and what better way to do so than savouring a traditional Canarian Island dish: Scalded Gofio, wrinkled potatoes, vinaigrettes and all kinds of fried fish.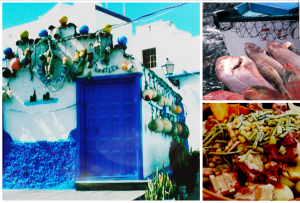 The crowds soon arrived and the atmosphere vamped-up into a mini Festival affair. It was an amazing start for any race.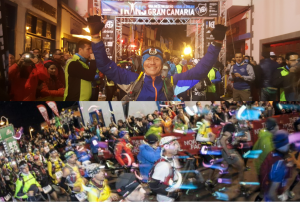 A minute countdown began. My focus narrowed in tune with my head torch and I applied my APALS red sticky light strip to back of my headgear, this tiny thing is bright enough to be seen half a mile away. I was pitying future persons running behind me and then with a blare to bring me to reality 23.00 was a go and with 'ZZ Top' esque fanfare we all 800 crazed runners were off. A trail of fevered lights fluttering away. Within 500 meters we hit the start of the 1st climb and what a climb that was. I believe it was about 1200 meters and thus not far off our highest U.K mountain: Ben Nevis at 1350 meters.
Watching the line of torches disappearing into the endless distant summit felt increasingly wonderous but daunting.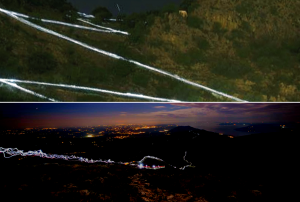 I looked to the floor lit up 5 feet in front of me and set my mind to task. The torch lit up the cold heavy mist that lay heavy and shrouding both mountains and runners alike. Was this a cunning embrace for the weary and unprepared traveller?! Within minutes I could feel my chest struggling and increasingly my barely vanquished cough grew more guttural. This was an increasing and painful problem.  All I needed to do was to focus on rhythm of mind, body and spirit but could not.
I buried my chin deep into the protection of my trusty
Venture Windtop Smock
and focused with all my soul. Time and mountains passed and still I pushed on.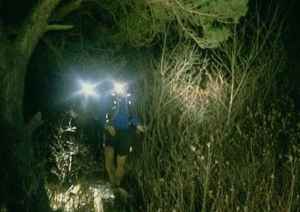 I felt good but was struggling with my breathing and obvious lack of training, luckily I had reserves of strength in my legs gained in part from the recent training I have been doing on a Stairmaster. At check points I regularly asked "how many runners already passed!?" and got an idea that I was roughly in the top 10%. This drove me on. I counted step after relentless steps as though in a trance as often I do when training at home on the Stairmaster.
After an age and 34km and 7 hours of running I reached 'Artenera' ( Marked A on the image below).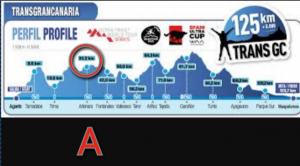 My heart sunk!!!
So much effort and I wasn't even a 1/3rd of the way. I stretched and gorged myself to the limit on Nuts, cheese, fatty ham and endless oranges at the aid station. I put all of my clothes in battle preperation with my
Venture Smock
as my last protective layer to protect me. I was shaking and knew the weather was getting much colder in dawns embrace. I left and was instantly greeted with a much worsened affair. I managed 200 meters and halted. I was uncontrollably shaking and had instantly lost the use of my hands due to me suffering with 'Raynauds' I could barely hold my poles. A thousand screams were driving me back to the warm busom of the aid station. This was serious. The Ambient temperature was about 5°c and with gusting winds of about 15mph the effects on me, a scantily clad runner were a '
bit
' of a problem. I stood for roughly 20 seconds in the embrace of the whistling winds …. In this time the voices on one side threatened to overwhelm me and the urge to turn back was crushing. I turned to the foreboding black endless shadow of the mountain and surmised that the sun would be up soon and if I could go on I might feel future benefit and would spit in it's face.
I screamed to the prevailing tormenting winds, "DAMN YOU!!' and set off. I grabbed my collar up high as possible and thanked the gods I had choosen to bring my Venture Windtop.
The next 30 minutes were Hell.
I drove as hard as I could, (all the time swearing at myself and the Gods) to rise body temperature and intermittently blowing hot air onto my hidden and white hands. This routine detracted my attention from the challenging terrain and I fell. A simple stupid fall that seemed to give no problems. I felt an ache in my knee and dismissed it. I knew I had to drive on or suffer more in being still and tending to minor problems.
The route luckily descended and was doing so with relative hiccups to the next big climb and the aptly named mountain called ' Teror' some 23k.m away,  all the while giving more shelter and warmth. Blood started to flow with increasing pain to my fingers and I rejoiced. I had made it. I was over the moon that I was thus far and though by reward, birds started to sing, dogs howled and donkeys echoed in the valleys abound, all basking in the sun's rays piercing the heart's of the cold mists and man and animal alike.
My spirits rose and my breathing incrementally got better with each increasing degree of temperature. I felt great and could see me spitting in the eyes of those taunting doubtful Gods.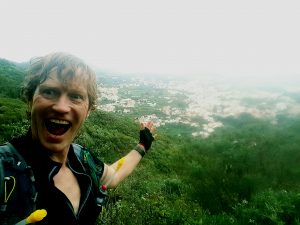 At 54kms in, I arrived to another aid station and familiar routine prevailed. The aptly named climb called 'Teror' lay ahead of me and I felt surprisingly okay. I felt that soul and body was prevailing and the boring but crucial stuff like my fluid, nutrition and electrolyte regime was going well and I was feeling unexpectedly optimistic.
I set of with the half way point 8k.m ahead of me and firmly within positive mind. It was 1/3rd of the way into this climb that my knee that had been a bit troublesome started to rapidly flare up to the point that I litteraly had to damn well stop. I would bend, flex and massage and then march on. Any flat or downhill slope provided rest bite and comfort, even though painful in their own right. This situation rapidly deterioted with every step. I employed new tactics and used my traditionaly weeker left leg to drive through each challenging step. A task difficult when you must orientate your steps accordingly on a totally random torturous climb. My arms had no strength in them and no reserve to propel me via my poles to aid me in this and they often hung there limply, noisely clatting away in contemptuous laughter at my worsening situation.
Every false brow and dip of the mountains gave me hope that 'actually' I had gone further than I had but with every agonising step I got that much worse. I am not ashamed to say, at the half way point,  I cried in pain and frustration. This threatened to over whelm and occur more and more. When I arrived at 'Talayon' 64km in and over half way I could barely stumble into the aid station. The official, without words, took my pack off, sat me down and covered me with a blanket. I asked him what aid station this was  ( I believed it to be Garanon – 82 km in) and was told it was 'Talayon' 64km in.
(Marked B on the image below)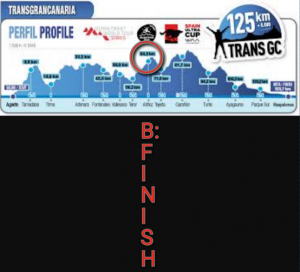 I repeatedly looked at a map given in disbelief. I had covered the lions share of the 'Ascent profile' – 4500 meters of ascent achieved by this point and had nearly broken the back of the it. I had about 15 km and 1400 meters more ascent to go to 'Garanon'. After Garanon it was generally all downhill for the last 45km 'A marathon' The 1400 meters of ascent ( more than Ben Nevis) to get to this downward tipping point was the crucial deciding factor. No way was my knee able to take that!!
Whilst enshrouded in my blanket I weighed up the odds. A long and MOST painful conversation prevailled. With future challenges in the mix and other people supporting those and quiet simply I was physically defeated I stood up and faced official, with a display of  'finger crossing throat' I signalled I was finished and out. Tears welled and I slumped to my shadowed corner. Many hands patted my shoulders and back and foreign words of comfort fell on an empty soul.
This was me…first time in my life defeated.  I write this with great upset and resolve stoically to use this in motivation to try to never allow this to happen again.
I have learnt soo much and hope I have and will be a better person from this. I feel like I have let down soo many people and apolgise if so.
Many people ask me as to 'Why' I do these extreme endurance challenges!? I do so to hopefully inspire others and therefore bring them to my heartfelt causes and to bring awareness of the urgent need for people to join the' Bone Marrow' and 'Stem Cell' registers. A simple and selfless act, that literally means you become a potential life saving match for someone.
For further details refer to my website, details below.
I hope this blog has been interesting and I hope you will follow me and SHARE this and my future endeavours.
You can do so by following me on:
TWITTER:
https://twitter.com/icaiw2014?s=01
FACEBOOK: https://m.facebook.com/Mrgavinsandford/?ref=bookmarks

Say and do 'I can and I will' and register. Be in place to potentially save someone's life.