So today I passed my Paragliding Pilots License and I am over the moon. One small step to hopefully greater things. I passed this course at the world class flight school called Airways Airsports that is owned by the legendary 3 times World Champion Judy Leden MBE. A HUGE THANKS goes out to Judy and her amazing Team. To Andy ( CFI ) Richard ( TFI ) Mark ( Chief Pilot Instructor ) and Dave ( Senior Pilot ). Dave also runs the adjacent first class 'Long Chimneys' Bed and Breakfast with his amazing wife 'Colinda' where you and your family can relax after a fun day at the school or from exploring the near by stunning Peak District or Alton Towers.
I am very lucky to count these all as great friends.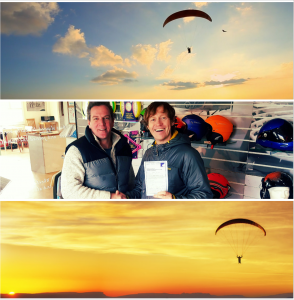 Many people ask me as to 'Why' I do these challenges!? I do so to hopefully inspire others as to what is possible and to bring awareness about the urgent need for people to join the' Bone Marrow' and 'Stem Cell' registers. A simple and selfless act, that literally means you become a potential life saving match for someone.
For further details refer to www.IcanandIwill.co.uk
Say and do 'I can and I will'

and register today. Be in place to save someone's life.