When running on the majority of the roads there is a constant and heavy companion sitting on your shoulders. It whispers to you and promises constant unseen dangers from the predatory traffic thundering and snarling down onto you. This mortal threat stretches, tightens and shreds your nerves. I'm lucky to have my safety vehicle from Bristol Street Ford for all of today which is being wielded by my darling girlfriend. ( did I say I was safe!? Uuummmmm, haahaaa )
Whilst 'Bessie' is being secured on her throne the weather gloomily looms. This doesnt tarnish my spirits. I'm to finish this 25th Marathon in my home town today and am excited and I guess a little nervous.
I decide to break open another fantastic Smiffys fancydress. I opt to brave the harsh weather and to wear a Zulu esque grass Tribal skirt and accessories.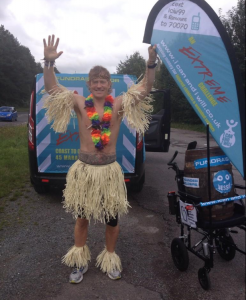 Running late and fairly delayed for one thing and another, I set off knowing I have to finish within 6 hours. I swiftly and finally adjust my trusty New Balance trainers and then take a few moments to 'geriatricly' limber up before racing off with excited and gritted determination. I mutter a few prayers. I realise with a fright that a personal best time is needed. I mutter a few more prayers whilst my thoughts ramble: ( I can do this! I can and I will! I have ambled around the Snowdon Marathon in about 4 hours. I would rather be doing two of those back to back! I've refused all expert advice to stop from day 2. Why!? I am 41 years old!! An ex stubborn-assed soldier! What the hell am I doing!? Why couldn't I have just decided to run!? No dear 'Bessie' making everything massively harder! Wishes of being even 35 are whimsically dismissed.)
I am instantly pummeled with a whistling head wind. This is going to be tough. I've got to finish on time. Why why why did I have a lay in!??
A couple of hours pass and I'm on schedule. The weather comes in harder and I start to feel the effects of hypothermia. I opt to add a layer quickly and change into a muscle costume.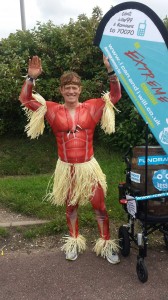 The countryside quickly peels away and unravels the growing grey fields of Birmingham.
The roads spread vine-like and more dangerous with vehicles barbing often under and over cutting to within inches of me. It is as though the safety vehicle is there inviting these metal objects of murderous intention to come swoop onto me.
I triumphantly run over the M6 and the gloomier weather sadly seems entombed within this concrete artery. I smile and focus on the remaining miles. As I run I can feel the acrid fumes I'm inhaling starting to seep deep into my lungs. I can feel the constricting painful warmth of the fight going on within. My eyes sting as rain glues itself to the inner workings of my eye. My oily and vinegar vision has gleefully been poured from the devil himself and feels laden with all manner of poisons. My throbbing head starts to pound and sings out loke the breaking of waves in a long lost cavern. The thundering of trucks echo in unison to my cerebral spasms and I succumb to the ebb and flow of this torment.
My spirits are bolstered then lifted sky high by the many people giving encouragement. Car horns and lights are used in excited encouragement and hollerings ahoy are bellowed to me. People stop to give donations and shake my hand. My tears grow from within and flow. I gladly thrust flyers into any available hands on route. My spirits are at their highest. No amount of danger, bad weather and elements are going to chip away at this and create any chink in my armour of spirits. My ankle and knee injuries frequently remind me of various unmentionables and I push down these protests. They for today can go swim in a dark forgotten pool with the other niggles.
On occasion my lungs violently expel the accumulations that congeal within and for those unlucky spectators they are presented with yours truly bent over convulsing, retching and hacking out all manner of "Alien' type drool. Their mimicking and borderline reactions do make me chuckle. I find more and more people taking pictures and wonder where these will be destined for. I pray donations will come.
The 'A' road that I'm on, that leads into the heart of Birmingham rapidly grows busier and I maintain my pace even though my body is screaming to hold up. I cannot slow my pace to allow for the precise finishing time to which I have already telegraphed to everyone. It's simply just to dangerous to be on these roads for to long! I am marginally ahead of schedule and I finish 25 minutes early. A record time, by far, is made by me of about 5 and a half hours.
I am met by a small gathering of wonderful souls who take my bedraggled self to the comfort of a nearby pub and rewarded with hearty medicinal hop like products.
A personal heart felt thanks goes to a fantastically warm-hearted and wonderful chap called Mike Hammond. Your overwhelmingly generous support will always proudly sit within me. Thank you!
As all people leave one by one, so the day's pains increase. I realise that I must seek some emergency treatment. My body is rapidly, visibly, folding and crumbling like an ancient leaf under heavy foot. I am reluctantly rushed for treatment. Surprisingly considering the severity of my injuries, this is only my third treatment so far.
I am aware that protestations and urges to stop are natural. I naturally choose to ignore. If I can walk out my day 2 injuries for the 7 days as I did, well anything can be achieved. My friend and physio, Joe Wolf (@Shapeshifters), works magic and I am eternally grateful for this brief mercy and more so for his friendship! I am wrapped up thereafter and whisked away by my No:1 'Angel'