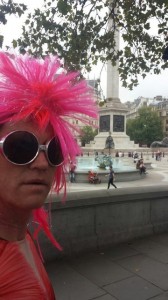 From Birmingham to London the days pass. The trials and tribulations of getting from 'A' to 'B' are the usual variety.
I realise with greater clarity than ever before that I am happier in the wilderness and make promises and plans to myself.
I meet far less cheer or interest in the urban quagmire and ridicule a plenty. I have a thick skin but it starts to cut.
I refer back to plans of the wilderness.
I think often of all of the parties who have helped me on this and am humbled by their support, of which I know I'm hardly worthy.
I feel distraught at times at the stress and hardships I know this has caused to some and wish to my core that I myself could have had better resources and planning in place and been able to shoulder this in its entirety and I aim to ensure this happens. The small amount of donations and so on are a fraction to the collective input and I feel.. A failure. I should have simply given my cash etc and I would of easily quadrupled and more what I realise will be my end pot of donations. There is no self pity here at all, but a brutal fanfare of facts and realisation.
Should I cover ' Bessie ' in burning tar and barb wire and carry it from now on..
I'm sure I bore the reader.. so.. another day beckons..