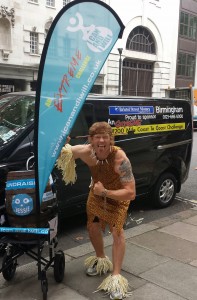 In hopes of increasing the donations pot and trying to get more awareness the decision and focus is made to run more in and around the inner guts of central London.
My injuries are improving! I feel a bit clunky and in pain here and there. I worry most about my ankle and think "Sod it!"
The usual routines occur.
I am over the moon that my girlfriend has some support for the arduous and risky task of driving through the mental streets of London. A heartfelt and personal thanks to Ricky and Martin. You learn who your friends are on things like this.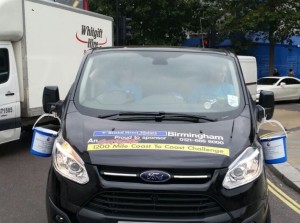 As time passes through the day the belched out fumes from all manner of vehicles take their inevitable toll on me and Co. Minor issues like my eyes flowing sweaty lead, burning nose and throat are ignored in favour of the rapidly growing burning and constricting sensation that chokes the deepest caverns of my lungs. " Ooohhh where for art thou sweet air flowing in around thy bonny mountains!?" Whichever fancy dress I've worn in the day drips grey sweat and smells peppered and vinegar like.
These niggles are ignored best as possible. A brave and happy face is shown and thankfully a few people take to donating. I wish I had a pound for all the photos taken of me. My donation goal would be long since achieved. I
guess a guy dressed in a freaky fancy dress pushing a barrel in the middle of the road past Buckingham Palace doesn't happen every day which was confirmed by the police who came to show interest. So the streets are often paved in gold and for this small happy band a slither was stripped away by the teams efforts and I hope that they feel proud of this and their efforts.